Discover more from A Pilgrim's Progress
The collective American Experience is its history, its people, and the moments that keep us on a path to an ideal - what that looks like is up to us, for now.
The Elements of American Style
How mid-20th century attitudes were reflected in fashion, and what it tells us about today.
"[One] realizes that without his clothes a man would be nothing at all; that the clothes do not merely make the man, the clothes are the man ... There is no power without clothes. It is the power that governs the human race. Strip its chiefs to the skin, and no State could be governed; naked officials could exercise no authority ... A policeman in plain clothes is one man; in his uniform he is ten ... No great title is efficient without clothes to support it."
—Mark Twain, The Czar's Soliloquy
Between the wartime constraints of the early 1940s and the cynicism and disillusionment of the late 1960s and '70s was an era in America brimming with halcyon-golden tan hues, laminate and chrome countertop shine, and bespoke, effortless confidence of a classic American-cut suit. It is the business suit — what millions of men traded their service uniforms for — that entered iconic status as a symbol of a new American era. More than anything, the aesthetics of the time is the standard through which we view our vivacity as a nation and well-being as a people. Of course, there is a persistent sense of nostalgia, especially as the Greatest Generation disappears and loses influence, their grip on eternal optimism and resilience never breaking but leaving us sorely under-equipped. But many look back on those golden years with such wistful longing because we have failed to live up to, let alone surpass, the expectations on which the groundwork was laid.
American greatness and the promise of prolonged prosperity and hope fit us like a well-tailored suit. And nothing looked or felt better.
It was the Space Age, VistaVision, sprawling suburbs, and sky-high cities. John Wayne's drawl and easy gait chased away our fears, and Frank Sinatra sang the soundtrack perfectly with our gauzy love. One man held the needle and thread that created the post-war, modern image of America that burst forth mid-century: Sy Devore. The prolific designer and tailor was not only the most in-demand haberdasher in Hollywood, but he helped shape the aesthetics of pop culture and reflected the taste and mood of the time. But perhaps most importantly, it gave Americans an opening from beneath the shadow of European culture and formed a timeless style still emulated and admired today.
Seymour Devoretsky was born in Brooklyn to Russian immigrant parents and became a clothier. But his love of show business and music was inextricable from his trade. In the early 1930s, he opened a clothing store in New York's theatrical district that catered to the Broadway crowd. After his time in the Army during World War II, he managed the Andrews Sisters, eventually relocating the popular singing group to Los Angeles at the urging of his jazz band friends, the Dorsey brothers and Count Basie.
Sy Devore opened his first L.A. clothing store in 1946 at Sunset and Vine. A year after managing, with his brother Al, "Slapsy Maxie's," a nightclub on Wilshire Boulevard associated with the boxer-turned-actor Maxie Rosenbloom and purportedly owned by the notorious gangster Mickey Cohen. The hot spot hosted a who's-who of celebrities, including Dean Martin and Jerry Lewis, Cary Grant, Ronald Reagan, and Humphrey Bogart. It featured young comedians Jackie Gleason and Danny Thomas. Most would later become frequent clients of the tailor and designer Devore, whose shop would be a place to see and be seen, especially Martin and Lewis "Jerry Lewis asked Devore to stitch a half-dozen eye patches in silk mohair for [Sammy] Davis [Jr.], who lost an eye in a traffic accident in the mid-1950s," according to Leonard Freedman, who worked with the Devore brothers at their Hollywood shop (Lewis also reportedly ordered $75,000 worth of clothes a year). When the comedy duo broke up in 1956, everyone asked, "Who gets custody of Sy?"
The legacy of Devore isn't his parade of A-list Hollywood heavyweights and iconic performers like John Wayne, Frank Sinatra, Sammy Davis, Jr., Nat King Cole, Miles Davis, David Niven, and Elvis. Nor his long and distinguished list of costuming credits, including being portrayed by Richard Deacon in Jerry Lewis's 1964 comedy, The Patsy. It will be his style: transforming the traditional American-cut sack suit, first manufactured by Brooks Brothers, into one distinguishable, emulated, admired, and symbolic of a period of American singularity. It was his single button, notch lapel, darted canvas, and tapered trousers. This sophisticated confidence shed its boxy shell without the more casual, unstructured shoulder and light canvass of the Italian cut suits, with a jacket length shorter than the traditional British. The American style was born of the sharkskin suits of The Rat Pack as they walked down the Las Vegas Strip in Ocean's Eleven. Or dressing president-in-law Peter Lawford to be worthy of a White House invitation. Or the casual ease of a perfectly fitted cardigan for an afternoon in Palm Springs. Devore and his wares were America's golden age in real time — on or off the rack.
You might ask, "But Jenna, why does this matter today? Aren't you just reaching for something that has no bearing on today's America?" It has everything to do with the decay around the societal edges, the enormous waves of anxiety pulsing through the younger generations, and the disappointment and disillusionment of many Americans.
A Pew Research study looked closely at American optimism since 1959 and the subsequent growth of the "gap" between Americans' present and future and the nation's:
The public's lack of a sense of national progress is more than matched by its lack of optimism about the country's future course. When asked to look forward five years and estimate where the country will be at that time, respondents gave a lower average rating (5.7) than did participants in all 12 previous surveys conducted over the last 36 years. In fact, the only survey yielding a comparable level of national pessimism, again, was conducted during the Watergate era (April 1974).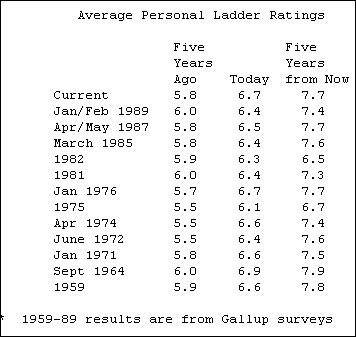 Recent polls will yield a similar downward trend, even in a time of relative economic prosperity, wealth, and standard of living — and this trend cannot be laid solely at the feet of the pandemic. However, it certainly acted as an accelerant to an already raging fire.
The outlook for younger generations is even more bleak. This is from a 2022 American Psychological Association poll [emphasis added]:
On a scale of 1 to 10, where 1 means you have "little or no stress" and 10 means you have "a great deal of stress," the average reported level of stress during the past month among all adults was 5.0, which has held steady since 2020. Still, this level is slightly elevated from prepandemic levels (2021: 5.0, 2020: 5.0, 2019: 4.9, 2018: 4.9, 2017: 4.8, and 2016: 4.8). What's more, an alarming proportion of adults reported that stress has an impact on their day-to-day functioning, with more than a quarter (27%) saying that most days they are so stressed they can't function. Nearly half (46%) of those under 35 and more than half (56%) of Black adults under 35 agreed with this statement.
The small circle of jabberwocky commentators, intellectual Cosmopolitans, and the worldly well-heeled scoff at the simple times of the past as backward, mundane, or unsophisticated, yet that is where we should look if we want to understand how a happier, more fulfilled, unified nation used to function. We look at the American aesthetic, the attitude, the style of our society and culture. We saw communities with a common sense of public decency and politesse, and manners and respect for each other. We saw suits and ties, hats, shined shoes, and clean hair. What I see now are pajamas and slippers in stores, rude customers, indecent acts in public, and no respect for authority, each other, or ourselves. We allow indecency to appease our worst sense of apathy when we should demand excellence to restore our self-respect.
While it's certainly good to have freedom of expression and individuality, it seems to have come at the sacrifice of identifying as Americans altogether. Somewhere, Timothy Leary's "Tune in, Turn on, Drop out" — in some ways a stroke of marketing genius from the famed media theorist Marshall McLuhan — crossed wires with anti-patriotic 1970s sentiment, and what was scraped together like Prometheus was a celebration of personal identity and grievance hierarchies holding supremacy over being simply American.
In a digital age, when people — especially kids and young adults — have more virtual interactions than personal in-person, this is pronounced. Generations already floundering and unsure of themselves, their place in society, and how impactful intimate social connections can help shape a community and national identity are having this insecurity exploited for political purposes, much to their detriment and mental well-being. A 2021 Squarespace/Harris Poll finding illustrates the shift:
60% of Gen Z and 62% of Millennials think how you present yourself online is more important than how you present yourself in-person, compared to 38% of Gen X and 29% of Baby Boomers.  

Nearly half (44%) of Gen Z and 39% of Millennials say they make a better impression online than in person, vs. 21% of Gen X and 8% of Baby Boomers.

Approximately 1 in 2 Americans (49%) believe they can remember the color of a website better than someone's eye color – and 71% of Millennials agree, vs. 58% of Gen Zers.

Off the top of their head, Gen Z are more likely to remember the last website they visited (43%) than their partner's birthday (38%) or their own social security number (31%).
And a 2022 Metaverse Gen Z trend report by Roblox revealed, "Two in five respondents said expressing themselves with clothing and accessories in the digital world is MORE important than expressing themselves in the physical world."
But back to Devore and the one man he wanted most to dress, but never did: Cary Grant. The British born, Hollywood icon forever eluded the tailor, preferring, as he writes in the article he authored on his style, reprinted in the Winter 1967/68 issue of GQ:
Some of my suits are ten to twenty years old, many of them ready-made and reasonably priced. Those that were custom-tailored were made by many different tailors in many different cities: London, Hong Kong, New York and Los Angeles. I believe that American ready-made clothes are the best ready-made clothes in the world: that the well-dressed American man makes a better appearance than the well-dressed man of any other country.
Grant exuded America, albeit in a more romanticized, subtle way than the fashions of Devore. Still, as Pauline Kael writes in her July 6, 1975 New Yorker profile of Grant,
Cary Grant's romantic elegance is wrapped around the resilient, tough core of a mutt, and Americans dream of thoroughbreds while identifying with mutts. So do moviegoers the world over. The greatest movie stars have not been highborn; they have been strong-willed (often deprived) kids who came to embody their own dreams, and the public's.
It's a breathtaking experience, and one beyond physical description except to say when you see it, you know. No, not the side-eyed half-joke about pornography or attitudes around "woke." It's the unmistakable magnetism of beauty reflected in the confidence, charisma, and unspoken power of style. Even as it transcends definition, it is a gauge of how we as a nation feel about ourselves, our future, and our value. And one could argue that in the middle of the 20th century, Americans had an unmistakable optimism, hopefulness, and swagger — and they had style.
In GQ, Grant writes, "Simplicity, to me, has always been the essence of good taste." And quite possibly the essence of a good life.
Thank you for taking the time to read this post. I promise my next post will be in short order, and if you like the dashing vibrancy and timeless aesthetics of Old Hollywood, you won't want to miss my next foray into romance and how it could be the key to saving America. Bold statement, I know. But the time for being bold is now! Please leave a comment if you feel compelled; I appreciate all feedback. Sincerely, Jenna